Talks happening. Of some kind.
<DELETED TWEET>
Da fuq?
Well, anyway, here it is.
CLEAR!!
Newsweek: RUSSIA SAYS SYRIA KURD FORCES HAVE OFFICIALLY LEFT BORDER WITH TURKEY AS U.S. TROOPS GUARD OIL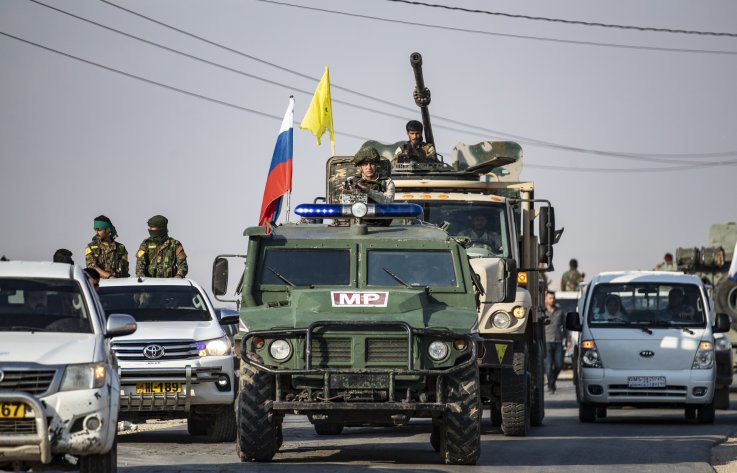 Russia has announced the complete withdrawal of Kurdish militias from a stretch of territory along Syria's northern border with Turkey as the United States has deployed additional troops to the country's eastern oil fields to deny access to both militants and the government.

. . .

"The Syrian border guards and our military police went there," Shoigu said, as footage emerged of Russian military vehicles escorting a convoy of the YPG the U.S.-backed Syrian Democratic Forces that it led.

. . .

While U.S. soldiers stationed in northern Syria transited to Iraq, others also crossed the border in the opposite direction, heading toward the province of Deir Ezzor where they've been instructed to guard lucrative fields containing much of the country's oil and gas fields. Once under ISIS control, these sites too were seized by the Syrian Democratic Forces during some of the final stages of the U.S.-led coalition's battle against the jihadi group, whose leader and top spokesperson were killed over the weekend in back-to-back operations first reported by Newsweek.

The Syrian government, backed by both Russia and Iran, however, also battled the jihadis in Deir Ezzor and has sought to reclaim the country's natural resources. The U.S. exit from northern Syria led the Syrian Democratic Forces to strike a deal with Damascus, but the group has maintained its ties with the U.S. and was set to participate in the oil mission as well.