Troop Movement & Battles
East to west today.
Russians Moving into Rmelan Airfield NE of Qamishli
Rumors have been circulating for awhile but it's firming up. (I try to follow their lead and not post rumors, although some minor sources prove to be remarkably reliable.) Of course, nobody knows what's happening until it happens. The rumors have been around for awhile, but Russia started mum.
This Means WAR!! a Build Up of Forces Around the Airfield
Here's an example Russia is offering:
Heavy weapons could be moved towards Tal Tamer as well.
Speaking of Tal Tamr: It's Always Sunny
Aircraft Over Deir ez-Zur
Manbij: Skirmishes with TSFA. And Ominous Waiting
Idlib: How Are They Still A Thing?
[SPOILER="Detail"]If a super terrorist ever evolves through sheer natural selection of being some place fucked and brutal like in Golgo 13 or Doomsday in Superman, this might be the place it happens.
Translation: An airstrike by Russian warplanes targeted the houses of civilians in the town of Svohen in Idlib countryside, on Thursday noon, which caused significant material damage to the homes of civilians and their properties without causing any injuries. #الخوذ_البيضاء
ISIS has not claimed the Qamishli bombing 
(and that may be bad)
ISIS usually claims attacks within 48 hours. But the attack isn't the suspect perps' MO. So it's a mystery for now.
But there's (also?) some shadowy group with the stated purpose of freeing the nation operating against the SDF. It's important to note here that "nation" in these contexts often refers to the sorts of people's revolutionary Marxist movements that tend towards the autocratic, so that could offer some insight. Not clear if this would be home grown or a Turkish black flag op to undermine unity and perception of legitimacy of Rojava, just new terrorist tactics by an existing or new group, or what.
This is a good piece on some of the ethnic tensions and conflicting loyalties within Rojava, in addition to using that to provide context for the guessed at purpose of and mystery of these attacks.
One way or another, terrorist bullshit is in the rise.
It might seem to demean the lives lost to call it bullshit, but I don't think so. It is bullshit. Sorta like how domestic terrorists are criminals. Period. Fuck their delusions of grandeur.
Like, the Asshole King is still an asshole.
They posted this to the internet so you know. Quite intentionally to make sure that you know.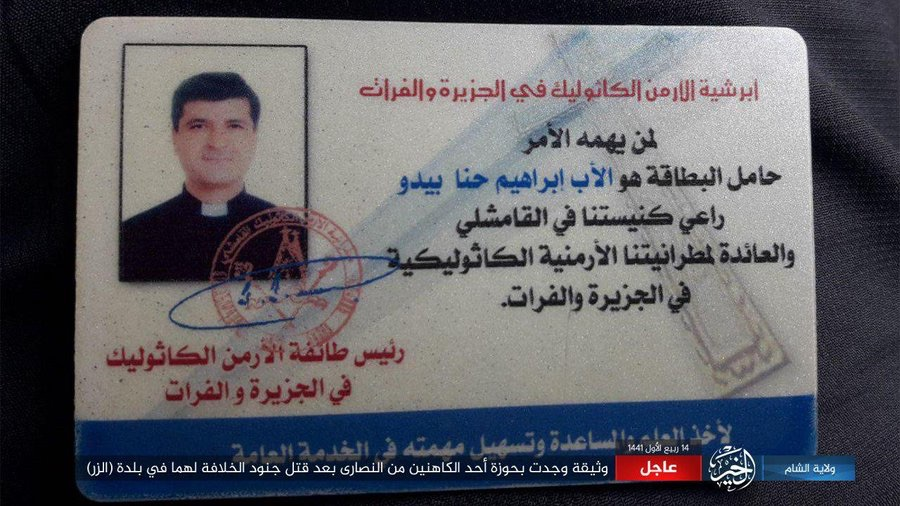 The killed priest. I think the message is "recognize." But we do. Oh, but we definitely do…
Rojova Information Center Has a Webpage.
Rojava Information Center (RIC) is an independent, volunteer-staffed organisation based in North East Syria. So far, RIC has assisted reporters and researchers from: the Wall Street Journal, The Independent, The Guardian and Haaretz; the BBC, ITV, NBC and ABC; news agencies Associated Press, Agence-France Press, DPA, EFE and ANSA; Cambridge, Yale and Madrid Universities; and many other national and international newspapers, websites and news sources with their work.

Some of us are international journalists and media activists who traveled to Rojava with the aim of sharing our skills in a region which has only enjoyed the benefits of a free press since its liberation from the control of the Assad regime in 2012. Our team also includes local people and other foreign volunteers who saw the importance of this project, and have agreed to share their time and expertise.

There is a lack of clear and objective reporting on Rojava, and journalists are often unable to make contact with ordinary civilians and people on the ground.

So we set up the RIC to fill this gap. We aim to provide journalists, researchers and the general public with accurate, well-sourced, transparent information.

We work in partnership with civil and political institutions, journalists and media activists across the region to get journalists the information they need and put them in touch with the peoples of Rojava.

Services for journalists:

Set up interviews with ordinary civilians, representatives of local organisations, members of the military structures (SDF/YPG/YPJ) and international volunteers in Rojava
Advise journalists who wish to travel to Rojava on what steps to take
Provide exclusive photos and video from on the ground
Corroborate information in breaking-news situations
Propose stories, leads and contacts to journalists wanting to cover the region
Translate Kurdish material into all world languages